Maids reckons in poetic form with my memories of the women who cleaned my parents' house when I was a girl. It was named a finalist or semi-finalist for the Robert C. Jones Prize for Short Prose, the Slope Editions Book Prize, the Marie Alexander Poetry Series, the 42 Miles Press Poetry Award, and the Deborah Tall Lyric Essay Book Prize. 
Here's what people are saying about Maids:
A lyric, vivid, scathingly honest window into the anatomy of prejudice and how it is built and inherited --one that sticks with you for long after the book has ended." Lauren Markham, author of The Faraway Brothers: Two Young Migrants and the Making of an American Life
"Oh my God is the only way to  begin this blurb for the always amazing Abby Frucht's stunningly inventive collection of gorgeous prose poems that read like connected short stories. Frucht limns the life of a girlhood lived amidst female household help, along the way delving deeply into class, race and longing. Deeply moving, funny, (the wordplay is delicious), this isn't just a book, it's a downright event."  Caroline Leavitt, New York Times Bestselling author of Pictures of You and Is This Tomorrow
"Abby Frucht's prose poems, Maids, read like metastable stories flickering in and out of time, testing questions on race and class in a quivery narrative then and now. I loved the experience of reading and re-reading Maids for this new form of life they create on the page."  Sergio Troncoso, author of Crossing Borders:Personal Essays, and A Peculiar Kind of Immigrant's Son
"Abby Frucht has written a beautiful, unsettling, intelligent work. In this extended prose poem, she disrupts the ordinary flow of words in order to reflect the continual process of rupturing and meaning-making that is the lived life. Out of the shards of language, a story coalesces around questions of race, class, and cultural appropriation. Maids is an original, deeply serious, suspenseful, and often funny work that brought to mind Elizabeth Hardwick's Sleepless Nights. In other words, it's wonderful." Molly McCloskey, author of Straying.
While Frucht is the consummate storyteller, what is startling and stunning about these poems is her use of imagery, her play with time, and her disruption of language, all of which cause readers to back up and go forward, never quite sure of their footing. These disruptions, though frustrating at times, deepen the meaning and perhaps reflect the narrator's struggle to grapple with her privileged upbringing.
 -Maids, reviewed by poet laureate Karla Huston for Wisconsin People and Ideas Magazine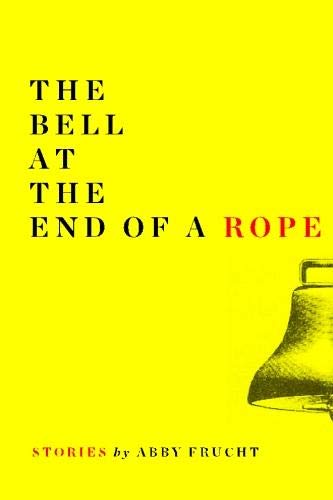 These 14 stories share a subject - children and childhood - along with a taste for the unfamilar. I hope that like my other stories, novels, and essays, they expose readers to dark events via a playful and sensual perspective, exploring the mysterious, eccentric aspects of all our lives and how they sometimes cause us to go astray.
"The first time I read a story by Abby Frucht I experienced something we all want when engaging with art: I felt completely full, and thrilled, and scared. I walked out into the cold night and kept walking. Not lost, but needing to be in the world because after reading Frucht the world felt different, it felt more intimate. The Bell at the End of a Rope is an incredible, ecstatic, funny, dark collection. Reading it is an experience much like watching a house on fire: there is danger, there is destruction, but there is also beauty, light, and above all . . . heat."
—Matthew Dickman
"A perfect reading experience: colorful, unpredictable characters, stories that charm and startle, and language that is precise and utterly original. Wit, humor, and pathos. The real winner is the reader."
—Evan Fallenberg
"A magnificent collection of stories."
—Robin Oliveira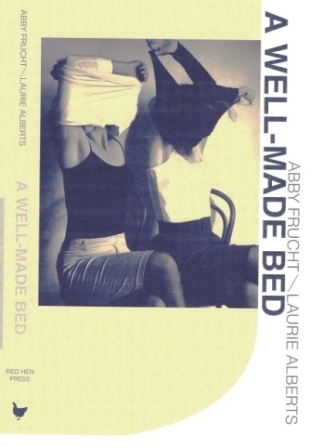 In this collaborative novel by Abby Frucht and Laurie Alberts, do-gooder Noor and frumpy home-schooled Jaycee find in Jaycee's luggage a cheese stuffed with drugs that she has unwittingly smuggled home from Peru. Greed overcomes good instinct, and soon the unlikely pair are breaking bad in Vermont. Noor, a therapeutic riding instructor, and Jaycee, daughter of a plagiarizing children's book author who has insisted on raising her as though it's still 1860, discover that they have more than selling drugs in common. Ugly secrets, including the truth about the death of a childhood friend, come to light as Jaycee and Noor make tentative strides toward a less prickly, though still lopsided friendship, and a caper becomes a calamity. Darkly comic and beautifully rendered, A WELL-MADE BED goes beyond the tropes of the buddy tale to explore just how easily each of us might step over the line from being a clean-nosed good citizen to being a felon.
"Two women, both touched by tragedy, find themselves bonding over cocaine, betrayal, loneliness, and cheese. Noor Kahn, never quite recovered from the accident that took her best friend as a child, is stranded in the country with her failing equestrian therapy business and a husband she's increasingly unsure about. Jaycee, a neighbor raised in a historical theme park and naïve about the world outside, finds herself in possession of an interesting package when she returns from her first act of rebellion, a spontaneous trip to Peru. After the two women become connected through Jaycee's father, Mr. Emory, a once-famous children's book author struggling with dementia, a strange fellowship is born, built upon the shared discovery of cocaine and the power it could bring them. As the women decide what to do with their dangerous windfall, numerous potential obstacles spring up along the way from Gerry, a man in Noor's past who becomes part of Jaycee's future, to Mr. Emory's past dealings with copyright infringement and the indiscretions he's kept quiet all these years, issues once thought resolved and secrets supposed to stay buried. In this uncertain climate, the women will have to figure out how far they're willing to go to get what they want. The novel deftly navigates between narrators, keeping its momentum even when jumping back and forth in time as the women and the reader discover a dark secret that's been hidden away for 15 years. The storyline hurtles forward at a steady pace, keeping the reader engaged and managing to answer questions while creating new ones. The only disappointing element is how abruptly the novel ends, building up to a climax that ultimately resolves itself in mere moments. The journey to get there, however, is what makes Alberts and Frucht's novel an absorbing read. A weighty tale that keeps the reader intrigued and entranced despite an uneven ending."—Kirkus Reviews
"A Well-Made Bed depicts an eclectic, morally dubious collection of characters . . . (who) exhibit a wily, formidable strength as they scrape their way out of bad situations, making the best of the cards they've been dealt"
 
—ShelfAwareness
"Lovers of literary fiction will appreciate the fullness of the characters, the topsy-turvy plot twists, and the thought-provoking themes."
 
—Foreword Reviews
"Frucht and Alberts construct a narrative that subverts genre conventions to effectively tell a new version of an old story, one with enough surprising prose to satisfy a wide variety of readers."
 
—Northwest Review of Books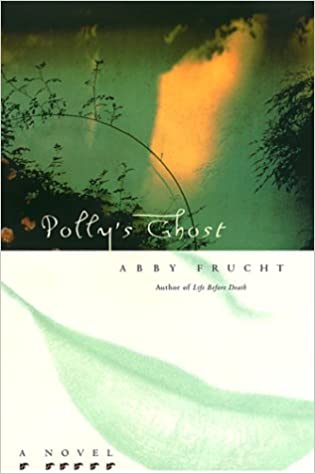 I began this novel in honor of a friend whose mother died in childbirth. Then, as happens with novels, many new characters intervened. Some people find this a little confusing, but I'm happy to think that ghosts, by nature, are confused...and so are their novels! First published by Scribner in 2000, POLLY'S GHOST can now be purchased as an Authors Guild backinprint.com edition.
"An odd, lyrical tale from Frucht (Life Before Death, 1997, etc.) of a mother's ghost and the lives she tends in her 30-odd years roaming the astral plans. Disembodied though fully conscious, Polly narrates her life-after-death, which is less about her life than the observation of everybody else's. After having given birth to three sets of twins, the charmingly irrepressible Polly dies in childbirth before ever seeing her single son, Tip, and so becomes his guardian in death. When Tip is nine, camping with next door neighbor Johnny—not yet friends, not yet enemies—Polly wishes for something to fall from the sky, an event to bind the boys, giving Tip a twin by proxy, to ease the loneliness she feels she's burdened him with. She's thinking of a falling star, but it's Tom Bane's airplane that falls from the sky into the lake, creating a vengeful ghost out of Tom, who subliminally needs to punish Polly's kin, and setting off a chain of events that shape her son's life. Dancing in and out of the consciousness of others, Polly "visits" Tom Bane's wife, Angie; his daughter, Honey; and Johnny's mother, Gwen. But it's Tip she is trying to make her way to. Slowly, all these lives begin to converge, making a strong case for the concept of destiny, or at least for the power of ghostly interference. Inheriting his mother's charismatic glow, Tip grows into a happy Lothario, Honey into the paragon of independence, while Johnny, lured into the water by Tom Bane's liquid bitterness, drowns, leaving Tip alone again. The narrative's forward thrust occasionally lags, suggesting a short-story cycle, but the detours are always beautifully imagined, redeeming the slow pace of Polly's eternity. The final, non-astral meeting is not so much a surprise as a welcome conclusion. A gentle foray into the infinite strength of love." -Kirkus Reviews
''Motherhood, ghosthood, know one and you've known the other,'' Polly explains. ''A ghost can't just be. . . . Just like a mother can't lie on the couch all morning. There's too much to do.'' But learning to reach out and touch someone from beyond the grave is no easy business. That night, her first attempt to get Tip's attention ends in disaster when she accidentally sends a plane spiraling into the lake, killing the pilot, Tom Bane. Outraged, Tom's vengeful ghost tries to even the score by luring a parade of unfortunate souls to their own watery deaths. His malevolent spirit is a recurring catalyst, shaping the action out of spite and restlessness while Polly does her best to protect her son -- and any others she comes in contact with. By the book's end, the strength of her mother love will have been amply tested." - Sarah Ferguson New York Times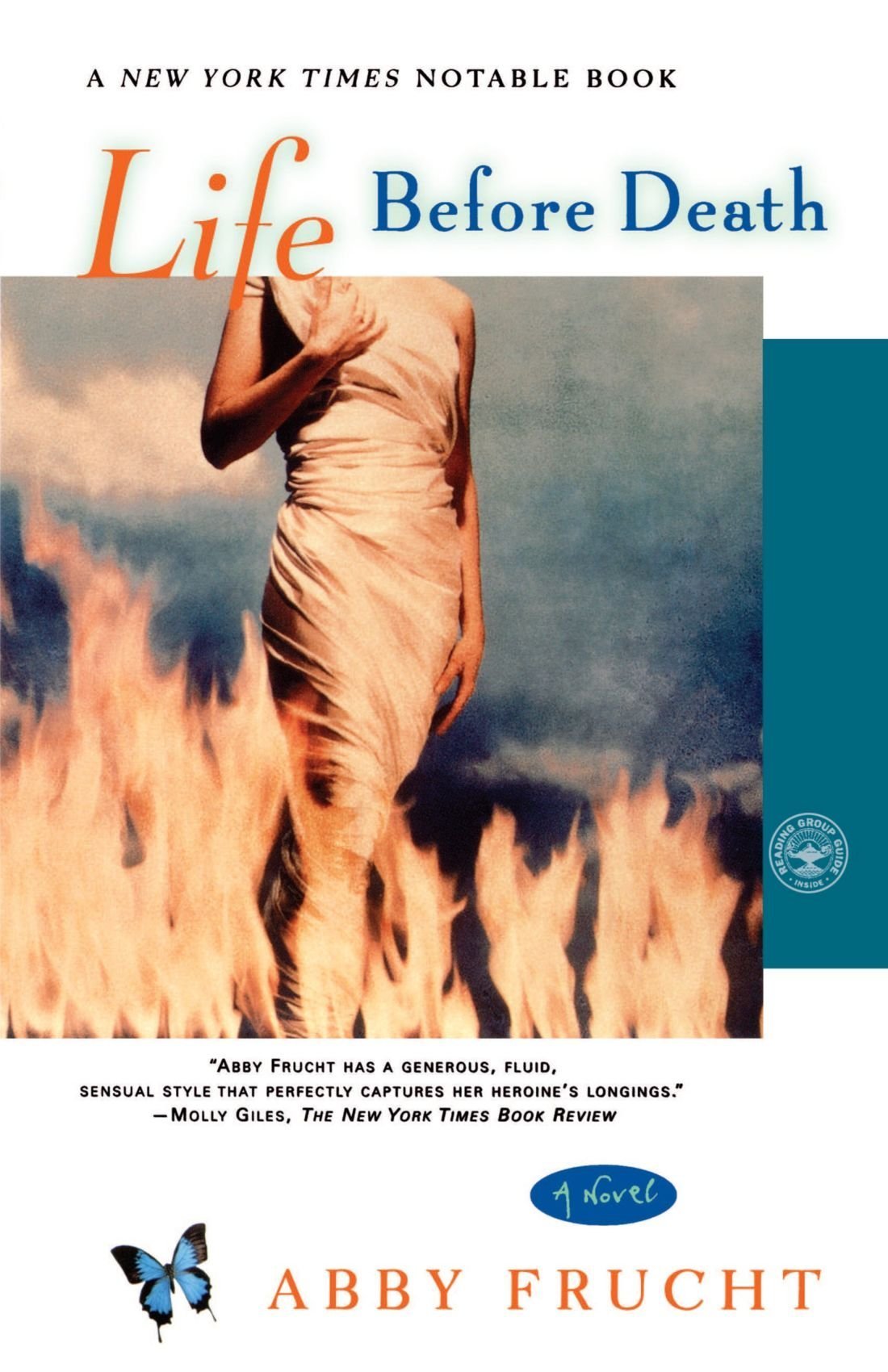 The writing of this novel was compelled by a local museum fire, and the discovery of a lump in my breast. Fact became fiction, resulting in a story Julia Glass calls "exquisitely strange...It bushwacks, in hilarious detail, through private female terrain." I liked viewing the museum dolls after the fire; they lay in their boxes like charred talismans.
When Isobel Albright finds a lump in her breast, she almost welcomes the prospect of uncertainty it brings to her life. Up until then, her world, bounded by her job as a curator in a historical museum and by her comfortable apartment, which she shares in platonic companionship with the son of her best friend, has been predictably safe. When the museum burns down, it signifies a complete break from Isobel's well-ordered past. Now, she has two new lives. In one, she is the Bald Butterfly Queen who undergoes chemotherapy and is cured; in the other, she turns down treatment. Which life is real? Gradually, the reader comes to understand that Isobel's life beyond cancer--the life in which she is propelled into a future of good health, children, and marriage--is the full, long life that she imagines for herself; her real life is the one in which she is dying. Her narrative slips back and forth between present and future, both equally real to Isobel. Frucht's use of images, such as the old 1940s-style telephone that seems to connect Isobel to her imagined years, is extremely effective. Poignant and beautifully written. Mary Ellen Quinn
Frucht (Are You Mine?, 1993, etc.) imbues a dreary premise (woman discovers lump in breast, is diagnosed with cancer, dies) with remarkable originality and insight, leaving the reader pondering the nature of life and death. Two dramatic things happen to museum curator Isobel Albright during one week in her 40th year. First, she discovers a tiny lump in her breast. Then, a few days later, the small midwestern museum where she works burns down. As Isobel joins her fellow employees in trying to salvage the charred contents of the museum's collections, she also quietly undergoes a series of diagnostic tests that eventually reveal that her lump is malignant; even with an aggressive course of chemotherapy, she's told, she has only a ten- percent chance to live. Counseled by her best friend, Martha, who flies in from Seattle, and by Martha's dreamy, quasi-clairvoyant 19-year-old son, Hercules, who's been sleeping in Isobel's guest room for a while (and whom sensible, responsible, unmarried Isobel adores), Isobel opts to skip the chemo in favor of fully experiencing the few months that she has remaining. Approaching her death as methodically as she's approached her life, she continues her work at the museum while beginning to review her own past. But desperate longings rise to the surface nevertheless, and the bright, joyous life that Isobel might have had takes on far more vivid life in her imagination than the sweet, faded memories to which she bids farewell. The experience of dying--of giving up what was and grieving for what might have been--is extraordinarily well captured in Frucht's sometimes whimsical, often luminous prose. A unique and memorable work, marking a new level of artistry for the author. -- Copyright ©1997, Kirkus Associates, LP. All rights reserved.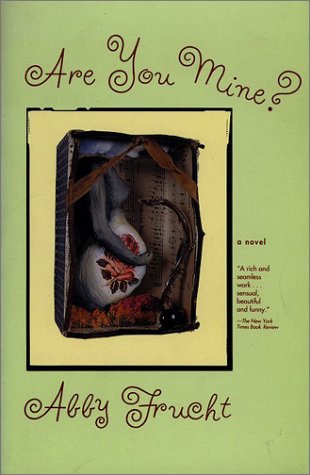 Writing ARE YOU MINE?, I was determined to embrace a charged realism by which my heroine might give voice to issues surrounding pregnancy, childbirth, and abortion. I began the book by feverishly taking notes during the delivery of my son. That chapter, THRONE OF BLOOD was anthologized in Gloria Norris' Seasons of Women.
"Frucht,  an accomplished novelist and short-story writer, offers wit and substance in this, her third book. The novel concerns family happiness--and the hazards that life presents to it. She sets and keeps a terrific comic pace that is never only comic, beginning with the very beginning, in which Douglas, young husband of Cara, makes love to a woman he barely knows after an even younger man abruptly dies in the act. The note struck early is struck throughout: love is a mortal risk, though with a touch of the absurd in it." - Publisher's Weekly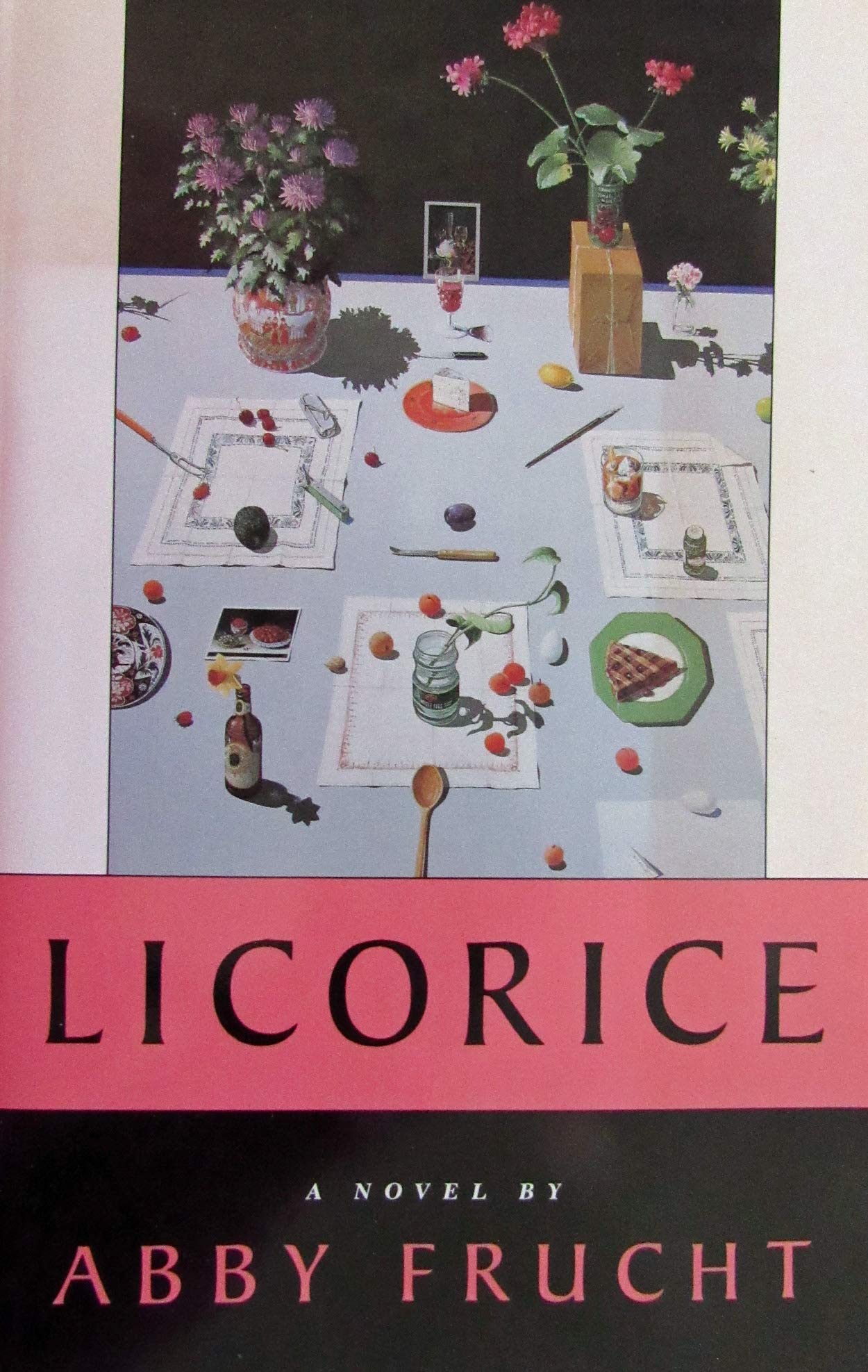 A small town mysteriously begins to disappear, but the mailman tells its story. I began writing LICORICE during a lush Ohio summer; the air suffused with something I imagined as longing. This was a seductive process; I wrote out of a haze of shapeless, but literate, yearning. Much later, a reader confessed that the book was partly responsible for the end of her marriage.  The New Yorker calls Licorice "spell-binding as a dream."
"Frucht creates a gently erotic view of the human and natural worlds in this elegant, surreal second novel. Two forces are evident in the lives of her characters: the yearning for union through love and the drifting apart through indifference. Temporary letter carrier (``TLC'') Liz connects people by delivering mail. Her scientist husband, Daniel, communes with plants and hand-pollinates them, ``playing matchmaker on our fruit trees.'' A dog leaps on Liz as if it ``fell in love'' with her. Liz's friends hunger for men, or boldly act out their needs. Liz herself fantasizes an affair with ``Cro-Magnon man'' Joe, a loner who lives in an abandoned greenhouse. But one steamy summer, during which their baby, Stevie, learns to walk, their small town disintegrates. People mysteriously leave; Liz's friends desert their baffled husbands and lovers. Streets disappear; library and phone systems close down. Though warned that her craving may deprive her body of needed substances, Liz devours curative licorice till her kisses grow smoky on Daniel's skin. Frucht is by turns playful and pensive, fanciful and realistic." -Publisher's Weekly
"Spellbinding as a dream. . . . Ms. Frucht's free-floating imagination and gentle, sensual voice have fashioned an enchanting novel." –Bethami Probst, The New York Times Book Review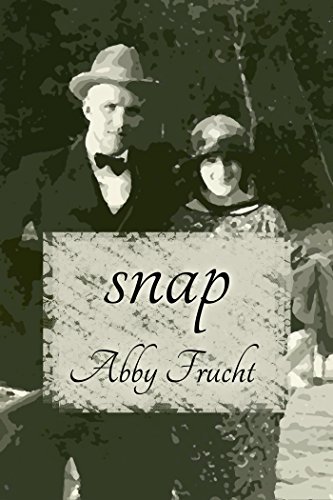 This was my first novel, a look at six people, many of them strangers to each other, whose paths cross during the separation and rejuvenation of a marriage. The world of SNAP is skewed, oddball, surreal, and I remember that to write it felt playful and strange, as if I had entered an intricate hall of mirrors.
"The list of past winners of the prestigious Iowa Short Fiction Award is dotted with the names of writers who have produced nothing except the collections of stories that won the honor. Abby Frucht has already overcome that stigma, and in splendid fashion, by publishing her first novel, ''Snap,'' at the same time as ''Fruit of the Month,'' which won the 1987 Iowa prize.... And then, like a promise granted, there is ''Snap.'' - Charles Dickinson The New York Times
"This entertaining first novel, set in several American suburbs, introduces a host of characters searching for love. Ruby lavishes affection on his wife Ida. Ida feels smothered by Ruby's attentions and impulsively leaves him to take an unplanned vacation with Big Stan and Nina, a pair of slovenly conceptual artists. Left to fend for himself, Ruby soon falls into the clutches of Linell, the chubby, casserole-baking divorcee next door. " - Publisher's Weekly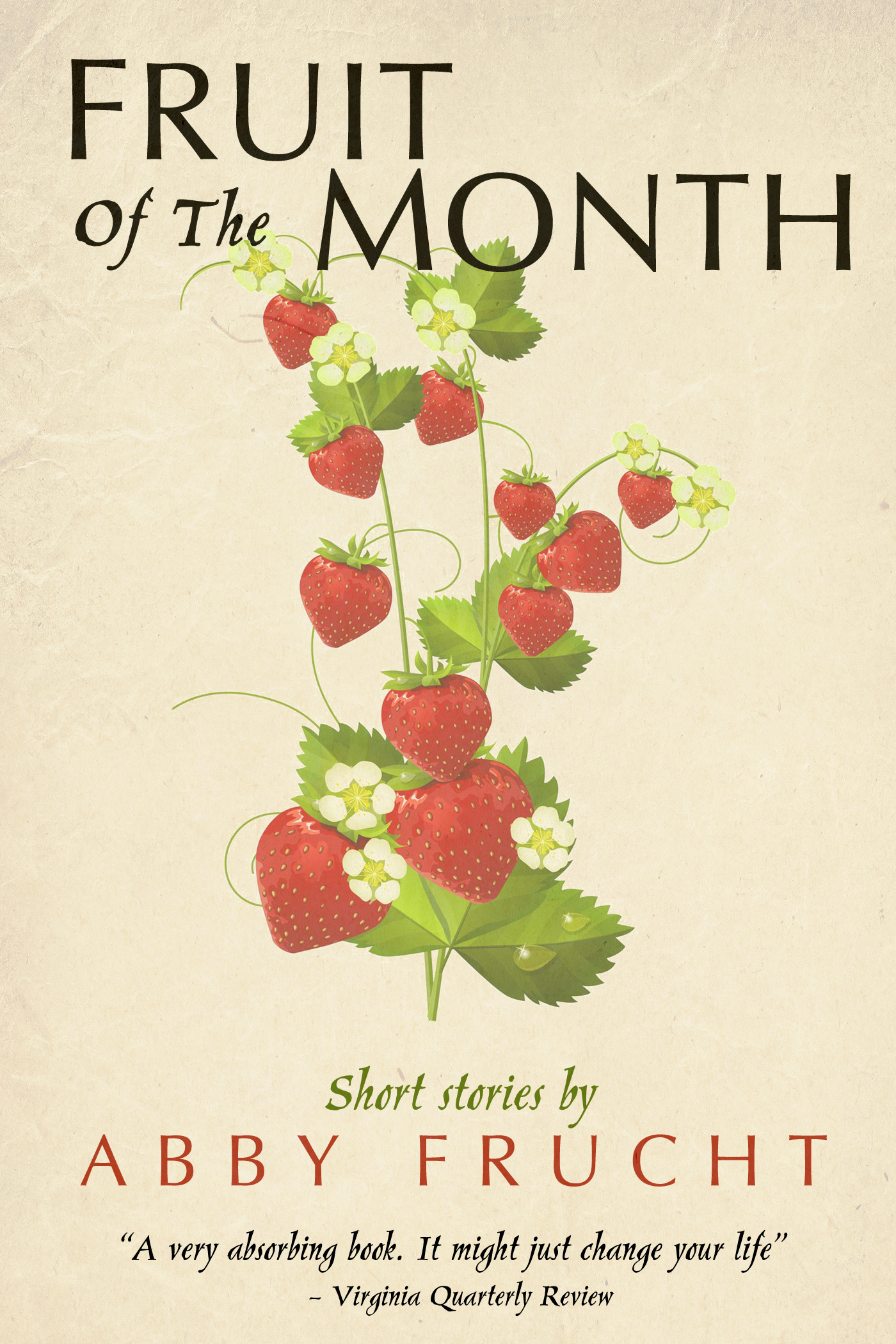 My first collection of stories, winner of the Iowa Short Fiction Prize.
Allison Lurie writes that Abby Frucht's stories "transform ordinary situations and relationships into something serious and universal.

"This book might just change your life." - Virginia Quarterly Review
"Frucht is a talented young writer, and though her stories sometimes are muffled by ambiguities, their resonances will linger in the reader's mind." -Publisher's Weekly