Please help me give back my stimulus check!
 
Buy Maids at Matter Press in support of The National Domestic Workers Alliance
Please help me give back my stimulus check by reading Maids in support of www.domesticworkers.org and the rights, dignity, and health of domestic workers. In this overdue time of national reckoning, we all must offer the best we've got. My little book, Maids is the best I've got. In honor of the women who kept house for my parents when I was girl - a white doctor's daughter in the 1960s and 70s - Maids opens "a lyric, vivid, scathingly honest window into the anatomy of prejudice and how it is built and inherited." (Lauren Markham) For every copy of Maids you buy for $10.00 from Matter Press, I pledge to match that purchase price in a donation to the Coronavirus Care Fund at National Domestic Workers Alliance. I'll post my donation receipts each month in hopes of donating $1,000 on the sale of 100 books.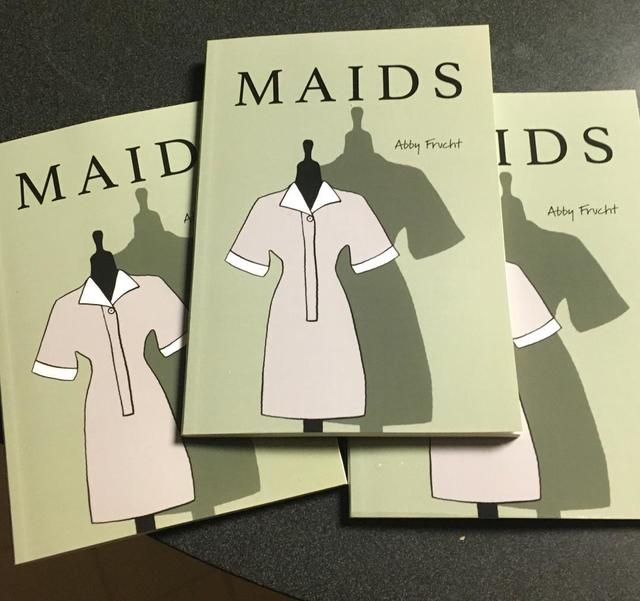 Maids
Thanks, Nickole Brown and Leslie Ullman, for urging me to work ever harder on Maids, my first and probably only ever collection of prose poetry, which was named a finalist or semi-finalist this past year and a half for the Robert C. Jones Prize for Short Prose, the Slope Editions Book Prize, the Marie Alexander Poetry Series, the 42 Miles Press Poetry Award, and the Deborah Tall Lyric Essay Book Prize. And thanks, Randall Brown at Matter Press, who messaged me to let me know, simply, "Read it, loved it, would love to publish it."
Here's what people are saying about Maids:
A lyric, vivid, scathingly honest window into the anatomy of prejudice and how it is built and inherited --one that sticks with you for long after the book has ended." Lauren Markham, author of The Faraway Brothers: Two Young Migrants and the Making of an American Life
"Oh my God is the only way to begin this blurb for the always amazing Abby Frucht's stunningly inventive collection of gorgeous prose poems that read like connected short stories. Frucht limns the life of a girlhood lived amidst female household help, along the way delving deeply into class, race and longing. Deeply moving, funny, (the wordplay is delicious), this isn't just a book, it's a downright event." Caroline Leavitt, New York Times Bestselling author of Pictures of You and Is This Tomorrow
"Abby Frucht's prose poems, Maids, read like metastable stories flickering in and out of time, testing questions on race and class in a quivery narrative then and now. I loved the experience of reading and re-reading Maids for this new form of life they create on the page." Sergio Troncoso, author of Crossing Borders:Personal Essays, and A Peculiar Kind of Immigrant's Son
"Abby Frucht has written a beautiful, unsettling, intelligent work. In this extended prose poem, she disrupts the ordinary flow of words in order to reflect the continual process of rupturing and meaning-making that is the lived life. Out of the shards of language, a story coalesces around questions of race, class, and cultural appropriation. Maids is an original, deeply serious, suspenseful, and often funny work that brought to mind Elizabeth Hardwick's Sleepless Nights. In other words, it's wonderful." Molly McCloskey, author of Straying
The Maid-Up Vocabulary of Abby Frucht
And here, reader and writer Curtis Smith at JMWW brings a really smart eye to Maids, and asks me to look at the work I brought to it in new and different ways.
CLICK ON LINKS BELOW TO READ AND VIEW MORE: